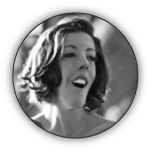 Hello, I'm Annie, a midwesterner putting down roots in the sands of Florida. I have lived in small towns and big cities (and prefer the cities). I do crossword puzzles in pen, listen to (perhaps) too much NPR, and sew my own throw pillows. I am a designer building my interiors portfolio and branching out into pattern and product design. I believe that form follows function, look follows love, and style should have some sass.

In some ways this company is just me, a fistful of pens, a roll of tracing paper and, yes, a laptop. But my work is inspired by my father, informed by community, and refined by collaborations with a friend in Japan.

Connect with me to add a pop of whimsy to your space or your product line.